Browse Product By Alphabet
-
All | # | A | B | C | D | E | F | G | H | I | J | K | L | M | N | O | P | Q | R | S | T | U | V | W | X | Y | Z
Bell / Dorje / Vajra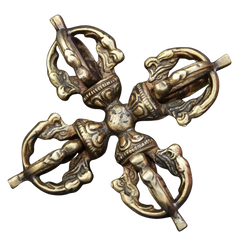 Shop the Best Bell, Vajra and Dorje at Discount Wholesale - HUGE BAZAAR

The bell (Drill-Bu) and Dorje/ Vajra are taken into consideration one set of objects in Tibetan culture. Tibetan Bell is struck with Dorje to provide the ring, not like different bells with a small ringing mechanism.

Tibetan Bell and Dorje are widely recognized for his or her calming and healing sound. The sound wave from a bell rung with the aid of using Dorje/ Vajra is stated to keep off evil and convey a layer of safety from the evil in its on the spot vicinity.

At Nirvana Mala, you may get the Dorje/ Vajra hand made with the aid of using a number of the exceptional artisans from Nepal. We are, after all, one in every of the biggest wholesalers of formality add-ons in Nepal!