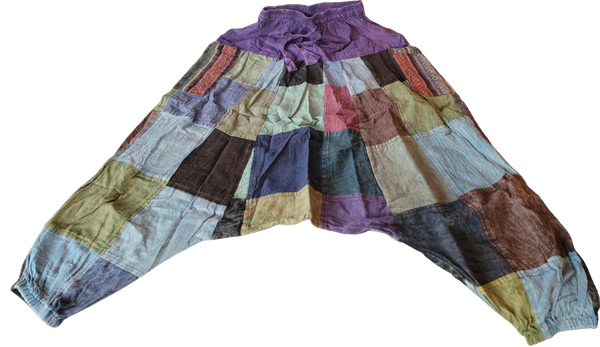 Description
2 side pockets.

You may adjust your waist to fit your specific waist size.

Adjustable waist and ankles

Made of 100% cotton in Nepal.

Suited for both indoor and outdoor use; 

Light and cozy.
Material: Cotton
Cotton Patch Stone Washed Aladdin Trouser, a comfortable and stylish garment that adds a touch of bohemian flair to your wardrobe. These trousers are made from high-quality cotton fabric, which has undergone a stone washing process to achieve a soft and worn-in look.

The Aladdin Trouser design is inspired by the flowing and relaxed style of traditional harem pants, with a loose and voluminous fit. The trousers feature an elasticated waistband, allowing for a comfortable and adjustable fit for various body types. The elasticized cuffs at the ankles create a gathered effect, adding to the distinctive Aladdin-inspired silhouette.

The stone washing technique gives the trousers a unique vintage appearance, with a slightly faded color and a subtly distressed texture. Each pair has its own individual variations, making them truly one-of-a-kind.

The Cotton Patch Stone Washed Aladdin Trousers are not only fashionable but also versatile. They can be worn for various occasions, whether it's a casual day out, a yoga session, a festival, or a relaxed lounge wear option at home. Their loose and breathable nature allows for ease of movement and comfort throughout the day.

Pair these trousers with a simple top, a boho-inspired blouse, or a fitted crop top to create your desired look. Accessorize with sandals or flat shoes to complete the laid-back and carefree style.

Embrace the free-spirited and comfortable vibe of the Cotton Patch Stone Washed Aladdin Trousers, and let them become a staple in your wardrobe for both fashion and comfort. Enjoy the relaxed fit, soft fabric, and unique vintage look that they bring to your everyday style.
These trousers are handcrafted, so there could be a slight variation in the color, size, and patch placement. To boost the material's elasticity, each pair of pants is stonewashed—suitable clothing for yoga, festivals, events, and weekend road trips.